"Residents of ECS communities are the most active seniors I've ever known."
Jackie Stevens – Regional Director of Life Enrichment
They say, "life is what you make it." As we age, the truth of this saying becomes even more important, so staying active – in body, mind, and spirit – is essential.
To this end, ECS has developed a curriculum of educational, cultural, and social programs and events that we call Creative Living. It is a philosophy that drives the distinct culture of our communities and provides residents with fresh opportunities for personal growth and self-discovery.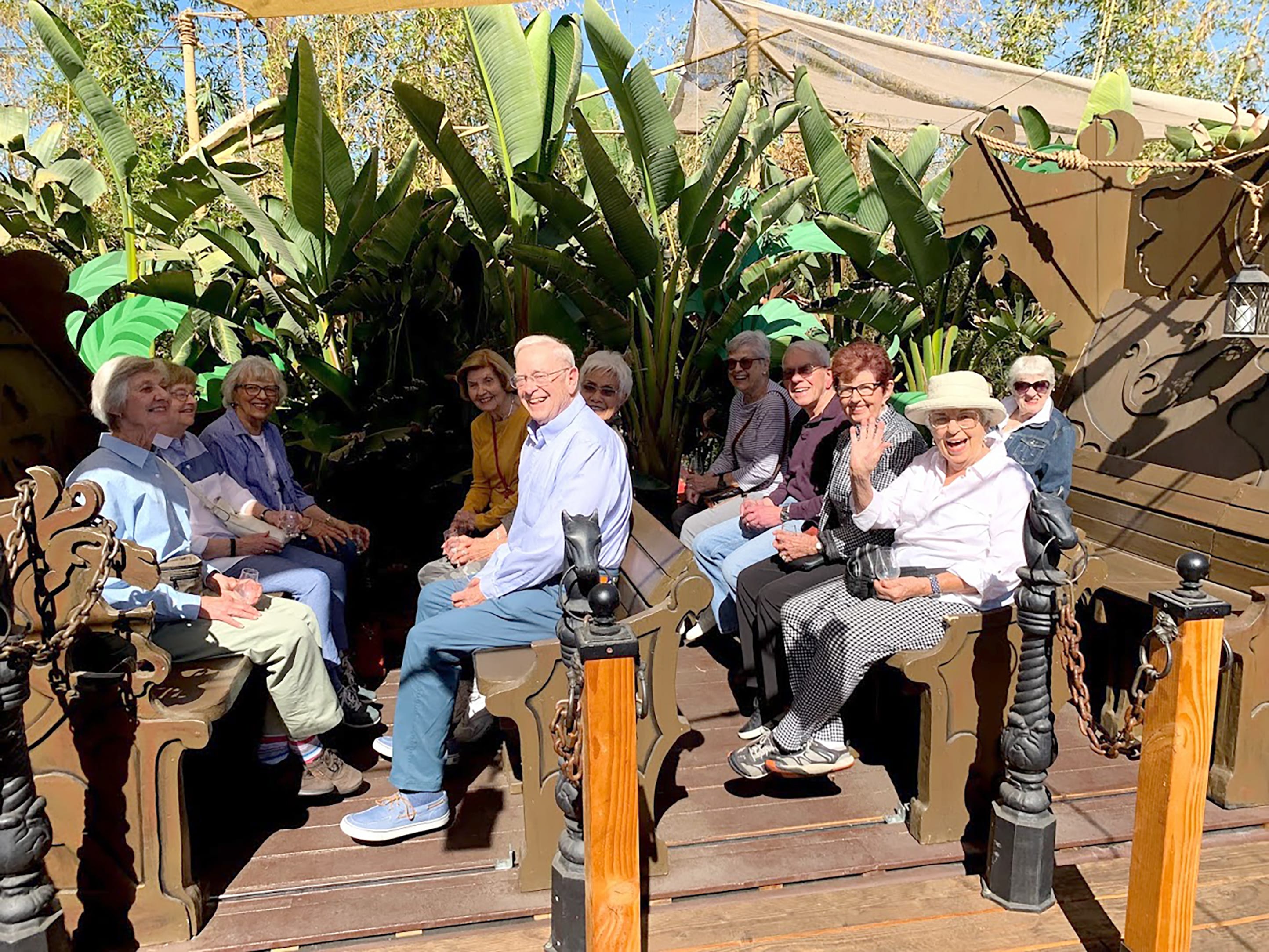 Creativity
Of our four core commitments to residents – choice, creativity, confidence, and connection – creativity is one of the most inspiring, and certainly the most fun. For Jackie Stevens, Regional Director of Life Enrichment at ECS, it is also the most rewarding. "We have a team of residents who meet regularly to help us plan the activities, events, and places to go. There is never a shortage of ideas, and the enthusiasm is infectious," she says.
From this collaboration, a calendar of events is created every month for The Covington, MonteCedro, and The Canterbury. "The list of options is extensive," Jackie says, "and our residents tell us there are so many interesting activities, they can't do them all." The wide variety of choice is intentional and supports the vibrancy of our communities. Jackie says it is important for one's mental and physical health. "Trying something new keeps people thriving."
Ongoing classes, which vary between communities, include line dancing, salsa, Spanish language courses, tai chi, robust fitness classes, and others. Many of the instructors have been with ECS for years and residents get to know them and enjoy the comfort that comes with familiarity. "It is one big family around here," Jackie says.
Some of the most popular items on the calendar happen off property, including Bucket List events. "Residents crave distinct experiences," Jackie says. Past excursions have included a trip to the Natural History Museum to take in the Jane Goodall exhibit, goat yoga (yes, you read that correctly) and a trip to a local car racetrack where adventurous residents spent the day learning how to drive a real NASCAR.
ECS is well known for its continuum of care and proactive wellness, an important part of why so many people choose to make a home here. What really gets new residents excited though, is the vitality of our communities. Jackie says people are thrilled to participate in so many activities, from pottery and painting, to choirs, and the on-campus theatre group. "One newly arrived gentleman said that the residents here are the youngest group of old people he has ever met."

Curiosity
Lifelong learning is such an important part of a vibrant lifestyle and ECS collaborates with residents to bring inspiring and thought-provoking lectures and seminars to our campuses. Entitled the OneWorld Series, topics of discussion have included understanding the issues for the LGBTQ+ community and the science and impact of climate change. Residents have been so pleased with the outcome of these presentations that the communities are now developing programs on other vital topics, including an upcoming discussion on inequality.
Jackie states that the level of interest reflects the intelligence of our residents. With so many talented and knowledgeable people within our communities, many are now giving talks and teaching classes themselves. "We have a resident who is a map expert who gave a wonderful lecture, another gave a presentation of their world travels, and soon an artist will be leading a drawing class."
For Jackie, staying active is key to staying youthful. "Residents of ECS communities are the most active seniors I've ever known."
About us
Founded on four commitments – choice, creativity, confidence, and connection – ECS provides relaxed, maintenance-free, resort-style living in beautiful, continuing care, retirement community settings in Southern California.
Celebrating 100 years of exceptional services for seniors. Proudly non-profit. Contact us today to learn more.
.