"Our residents are amazing and why I love my job."
Cynthia Jimenez, Transportation Coordinator, The Canterbury
Confidence is everything. It informs our decisions, inspires our actions, and leads us to new opportunities. In short, it underlies all that we do as individuals. At ECS, our commitment to the health and wellbeing of seniors means ensuring that those who call our communities home have confidence – in themselves and in us.
As we age, our support system – who and what we surround ourselves with – become an integral component of our personal confidence. Having a solid foundation allows us to keep our edge, stay active, and create the future we want.
ECS is blessed to have an amazing and dedicated team of individuals who collectively, create an environment that allows seniors to the thrive, no matter what stage of life's journey they may be on. Each Team Member plays an important role in our holistic approach to senior living.
For Tracy Beam, Director of Life Enrichment at The Covington, her 17 years with ECS have taught her much about the role confidence plays in the health of individuals. "A foundational aspect of personal confidence is activity," she says. Fortunately, Tracy is an expert on helping residents stay active.
Southern California is the center for much of the art, music, science, sport, and culture in our country and Tracy says she collaborates closely with residents to help plan the excursions and experiences they seek. "Our seniors are so active and are always coming to me with new ideas."
Tracy also brings a remarkable array of world-leading artists, musicians, scientists, and philosophers to the community to share their gifts and knowledge. "Residents tell me regularly that they don't have enough time to do all things available to them," Tracy says, "and I'm proud of that fact."
Physical health is also key to personal confidence. ECS communities are renowned for their holistic approach to wellness and our team of licensed health professionals are dedicated to ensuring residents have access to the best possible care, including nutrition.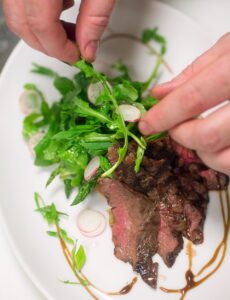 The relationship between diet and lifestyle is amplified as we age. For Gerard Turbush, Executive Chef at The Canterbury, what we eat is foundational to our overall health. "Food is our daily medicine," he says. To that end, ECS communities are committed to making meals from scratch using locally sourced ingredients, as much as possible. James Hsieh, Executive Chef at MonteCedro says fresh ingredients provide not only better nutrition, "the food is much more delicious."
Mobility is another issue that can erode our confidence as we age. Cynthia Jimenez, Transportation Coordinator at The Canterbury, understands the challenges seniors face. "Living here, means having access to transportation services that are not always available to people who may live alone," she says. "Residents tell me that since they moved here, they no longer feel stuck at home anymore."
Cynthia helps residents arrange all kinds of transportation for all kinds of reasons. "Going to the salon, meeting friends for lunch, taking their pet to the vet, a weekly bridge club, you will find no moss growing around here," she says. After five years in her role, Cynthia says she is grateful to know many of the residents well. "They inspire me every day."
Confidence comes from so many sources. At ECS communities, we provide the services, support, and amenities seniors need to stay active and confident every day.
About us
Founded on four commitments – choice, creativity, confidence, and connection – ECS provides relaxed, maintenance-free, resort-style living in beautiful, continuing care, retirement community settings in Southern California.
Celebrating 100 years of exceptional services for seniors. Proudly non-profit. Contact us today to learn more.
.