"I love everything about Thanksgiving, especially the food."

Gerald Turbush, Executive Chef
There are few traditions in America as beloved or iconic as Thanksgiving. The joy of gathering to reflect, give thanks, and celebrate the bounty of our country is for many, their favorite day of the year. So ingrained is the holiday that more people travel to be with friends and family during Thanksgiving than at any other time of the year.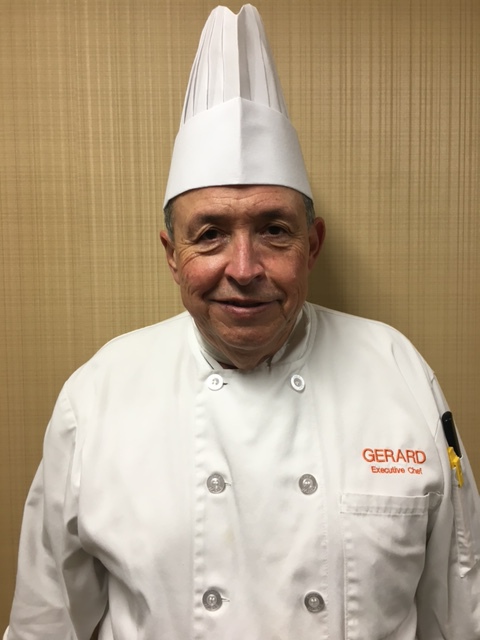 At The Canterbury, Southern California's premier continuing care retirement community, Executive Chef Gerard Turbush and his culinary team are planning a Thanksgiving meal worthy of the occasion. "I love everything about Thanksgiving," says Gerard, "especially the food."
A good Thanksgiving table starts with a good bird and Gerard will be creating a memorable meal this year. To that end, he is bringing in whole turkeys so residents can enjoy both white and dark meat. "I like tradition."
They say that a good chef is one that makes you hungry just by talking about their food and Gerard is no exception. "I prefer cooking the turkey in a roaster bag with mirepoix," he says. "I rub salt in the cavity and a thyme butter compound between the skin and the breast meat. It makes a wonderful stock for the base of the gravy too." This Thanksgiving Gerard is also preparing a sage and onion stuffing. "It is hard to improve on a classic."
The thyme and garlic crusted roast turkey is the star of the show but there are two other delicious main course options to enjoy, a delicate apricot glazed cedar planked salmon filet and a maple butter and clove glazed baked ham.
When it comes to Thanksgiving, it is a truth universally acknowledged that the side dishes are what make the meal so special. This year, the meal begins with an amuse bouche – cranberry and brie puffs, followed by pumpkin bisque with crème fraiche. During the main course, delectable accompaniments include rosemary and ginger glazed red garnet yams, Grand Marnier green tipped baby carrots, Yukon gold mascarpone mashed potatoes, and Blue Lake green bean casserole.
Gerard reminds us to leave room for dessert, because granny smith caramel apple pie, bourbon pumpkin pie, and pecan pie with maple cream await.
Thanksgiving in our country is about gratitude, something that is close to the heart of everyone at The Canterbury. "I enjoy every day that I work here," says Gerard, "and the rest of the staff feel the same joy, knowing that we are helping others to live a vibrant, healthy life."
Thank you, Gerard, for all that you and your team do to make life at The Canterbury so wonderfully delicious.
About Us
The Canterbury offers unparalleled resort-style, senior independence in the scenic rolling hills of Rancho Palos Verdes. Assisted living in our vibrant, active community opens the door to a life full of possibility. Experience the choices you deserve, the freedoms you desire, and the flexibility you can count on. Call us today to learn more.