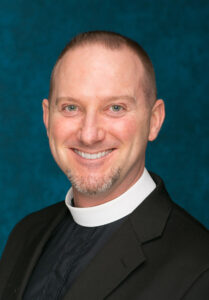 ECS is pleased to welcome back the Reverend Michael S. Bell in his new role as Director of Housing and Business Development. Michael is no stranger to ECS. He was the chaplain at The Canterbury for several years before moving to the PIH Health Good Samaritan Hospital. "As I was envisioning this new role, I had Michael in mind," says Sharon Pewtress, Senior Vice President of Operations/COO.
Sharon explains that Bishop John Harvey Taylor's vision is to develop 20-30 affordable housing communities in the coming years to address the housing crisis within the diocesan footprint, where there are at least 85,000 people unhoused. "The churches have the desire to be part of the solution in addressing this housing issue, but may not know where to start," Sharon says.
Michael's role and that of ECS is to support the churches as they move to create much-needed housing in the community. ECS works in partnership with the Episcopal Diocese of Los Angeles (EDLA), supporting them with their affordable housing initiatives. "It's an opportunity for the churches to receive needed funding and support the Bishop's initiative to provide affordable housing in the community. So everyone wins," Sharon says.
Santa Angelina at Blessed Sacrament in Placentia
Michael is the liaison between developers, parishes, government officials and more. At Santa Angelina in Placentia, the developer is National CORE. Headquartered in Rancho Cucamonga, they are the fourth largest developer of affordable housing in the country. Sharon explains that National CORE are a great partner, as they are vertically integrated, from the development of the property to being the on-site property manager as well. This integration provides a greater pride of ownership and accountability.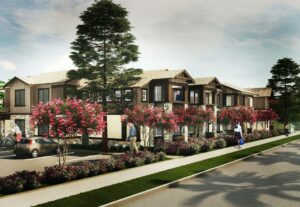 The church benefits in many ways by supporting the Bishop's initiative. For this project, Santa Angelina gives a 99-year lease to the developer, thereby retaining ownership of the land, and in return receives a one-time lease payment as well as annual rental payments to support the work and upkeep of the parish. The development has provided the church with funds for several enhancements, including a new parish hall, new children's picnic area, two new plaza areas and a new roof on the church sanctuary.
Santa Angelina will have 65 units of affordable senior housing — 58 1-bedroom units, six 2-bedroom units and one studio. Completion will be at the end of 2023, with residents moving into their new homes in January 2024.
For more information about Santa Angelina, please visit:  Santa Angelina | National CORE®
Orchard View Gardens at St. Joseph's in Buena Park
A second project in development that Rev. Bell is overseeing is Orchard View Gardens at St. Joseph's in Buena Park. Construction has already started on 66 units of affordable senior housing and the project is anticipated to complete in September 2024. This development will provide for some casitas, as well as one main building.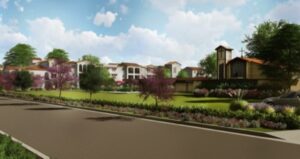 For more information about Orchard View Gardens, please visit: Orchard View Gardens | National CORE®
ECS is helping other initiatives across EDLA's six California counties. This program is supported through ECS's Creative Housing & Development Fund and is not financed by resident fees.
"We are deeply grateful for the opportunity to provide choice and security to those with limited or no housing options," said James Rothrock, President and CEO. "Michael has the heart, passion and talent necessary to succeed in this endeavor. I am very pleased that he will lead this initiative on behalf of ECS and the diocese."
ECS Board Chair Cathy May said that during Bell's years as The Canterbury's first full-time chaplain, ECS became "very familiar with his compassionate leadership. Michael brings the depth and experience to merge the needs of parishes with the increasing need for affordable housing. As ECS celebrates its 100th year of service through housing and services for seniors of all income levels, we are honored to join Bishop Taylor's initiative, and we are delighted that the Rev. Michael Bell will lead the charge."
Welcome Michael. We know you will make a large and enduring impact on parishes within the diocese, ECS, and our greater communities.