"Our employees are like family."

Danny Corrales, Director of Human Resources, The Canterbury
An integral part of our success is an incredible team of employees committed to our ideals. Their dedication ensures we deliver on our mission to create exceptional communities and services for seniors.
Danny Corrales, Director of Human Resources at The Canterbury – one of four ECS Communities in Southern California – is an example of someone who lives our values every day. In 2007, Danny graduated from Cal Poly Pomona with a Bachelor's degree in Management & Human Resources. Soon after, he learned about an opportunity at ECS and applied. Stacie Ocampo, Vice President of Human Resources for ECS, picks up the story. "I interviewed Danny and knew immediately he had leadership potential," she says. "His commitment and attitude impressed me."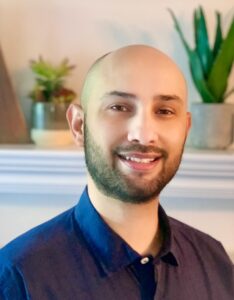 Danny's first role was as a Benefits Coordinator at the ECS management office, a job he managed from the reception desk. Danny was the first person everyone saw, and he made a point of learning every name. "He really connected with people," says Stacie. "When he moved to a new role, away from that desk, he was missed."
Another example of Danny living our values was taking the initiative to help feed those in need within the community at large. Over the years, he has regularly organized and delivered leftover food to the local homeless shelter. "It's just the right thing to do," he says.
Danny's time in the management office allowed him to learn more about the organization's decision-making process and how the different departments work together. "The experience enabled me to identify my goal of working directly with one of our communities," he says.
Danny's opportunity came in 2015 with a promotion to his current role as Director of Human Resources at The Canterbury in Rancho Palos Verdes. "I love my job, and the team knows my door is always open," he says. "It's the perfect place to work for those who want to have a positive impact on the lives of others."
Our residents and their families constantly tell us how much they appreciate the thoughtful quality of care and attention they receive and the way those who work at our communities conduct themselves every day.
An important part of this achievement for Danny is ensuring his team understands how much they are valued. "I'm proud that ECS is dedicated to supporting continuing educational opportunities for employees. It's so impactful." He also appreciates the Staff Assistance Fund for Emergencies (SAFE) program and says the last 18 months have really proved its worth. "Taking care of our employees, benefits everyone."
For Stacie, Danny's success story exemplifies the importance of hiring the right people and giving them the tools to succeed. "Our residents are like family, and our employees know that they are part of the family too."
Thank you, Danny, for your commitment, inspiration, and leadership.
About Us
The Canterbury offers seniors relaxed, maintenance-free, resort-style independence in the scenic rolling hills of Rancho Palos Verdes. Assisted living in our active community is the perfect place to continue your journey of a life well-lived, on your terms. Call us today to learn more.