ECS communities are well known as places where active, like-minded seniors continue their pursuit of a life well lived. Our creative living philosophy provides residents with daily opportunities for discovery, growth, and connection.
Part of what makes us one of the best seniors communities is our dedication to creating places that residents can be proud of, and truly call home. We know individuals have different needs, which is one of the reasons pets are welcome. For many, pets have been 'part of the family' throughout their life and that family feeling continues here.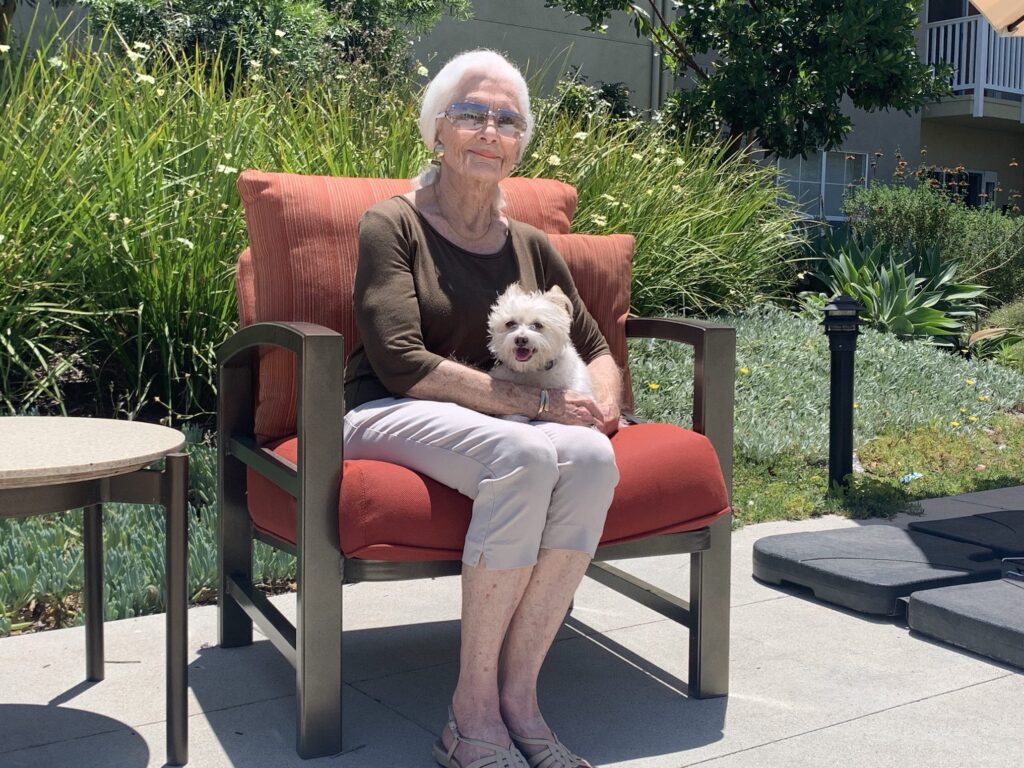 Resident Toni Decker understands this feeling intimately. Growing up in Southern California, she is a life-long animal lover. Toni chose The Covington in part because her beloved terrier mix "Mickey" could join her. Toni and Mickey moved in together in March, 2020. Then the pandemic hit. "I realized just how important my pet was to me during this time," Toni says. "I could also see the delight in the eyes of my neighbors who, unable to see their families, appreciated interacting with Mickey and the other pets in our community."
Inspired by this realization, Toni drew on her background in marketing and advertising to develop something wholly original and delightful – she would interview the pets of the community and tell their stories. "The Covington allows pets, but we weren't celebrating them. I wanted to change that," she says. These stories now appear in "The Chat", The Covington's monthly newsletter.
An avid photographer, Toni set up a professional backdrop and uses her Canon SLR camera to take wonderful, intimate portraits of the pets. Toni also spends time with the pets, getting to know them. "When I first presented the idea to my colleagues, I told them I wanted to interview the pets here. They said, 'you want to do what?'" Toni laughs. "And so, I did my first story." She started with the oldest pet member of the community. One year later, she has featured more than a dozen pets and their stories.
Toni's interviews capture the spirit of each dog. They begin with a short bio on the pet, then, like all good interviews, have a question-and-answer session. Here is wonderful (and hilarious) excerpt from one recent profile.
Teddy Draper is one of the newer additions to our growing canine community. He is about eleven years old, is a very sweet poodle mix and shares his cottage with his Mom and Dad, Priscilla and Ranny Draper…(Teddy and I) had a great conversation sitting on his beautiful new cottage patio.
Toni – "So Teddy, are you all settled into your new home?"
Teddy – "Yes, but I do just about the same things I did before I brought my Mom and Dad here. I have my duties you know, every morning I wake up my Dad and remind him it is time to fill my water bowl and open the door so I can go…. well, you know."
Toni – "What else?"
Teddy – "Well, when it is dark, Mom and Dad sleep with me in my big bed. But I must be very patient with them because they keep nudging me. They say I make noises when I sleep. Of course, I don't do that."
A member of The Covington Welcome Committee, Toni also noticed that when people moved into the community, they were greeted with a wonderful welcome package. "But there was nothing for the pets." Toni changed that. Now, when new residents arrive with a pet, their pet receives a 'welcome' package too.
"Having pets is so important and The Covington is a great place to walk your dog," Toni says. For residents who have trouble walking their dog, others are more than happy to step in and lend a leash. The community has "Pet Partners", a group that supports others with pet-sitting, or dog walking. "People are so great here," Toni says, "they are more than willing to help."
If you are considering a Southern California senior living community, please contact us to arrange a visit. We are sure Toni and her pet friends will be more than happy to tell you all about the joys of living here.