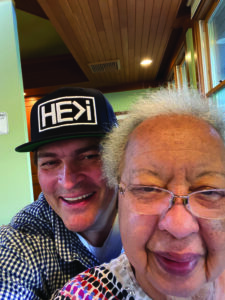 The vibrant spirit of Twelve Oaks is apparent to everyone who walks through its doors, including the dedicated Team Members who work here, the residents who call this community home, and visitors and volunteers alike. Twelve Oaks, a member of the ECS family of nonprofit senior living communities, has been an integral part of the La Crescenta neighborhood of Glendale, California for generations. Nestled within five park-like acres, the community has a special sense of welcome, caring and connection, which comes to life in the creativity and generosity of Julian Hernandez.
Julian Hernandez has been volunteering at Twelve Oaks for the past five years. He began donating his time and talent when "Mama Rose," a woman, who he considers to be his second mother, moved into the community. "I just started helping out by serving dinner in the dining room," Julian says. Then little by little, he saw other opportunities to contribute. He now leads activities for residents such as flower arranging and preparing charcuterie boards, and has become key to the culture of the entire community
Many residents have regular visitors, but some are without family. When Julian noticed that a resident's birthday was coming up, he wanted to make sure there was a celebration for the occasion, so he created a stunning cake. "I always think that if God has given you a talent, you need to share it," Julian says.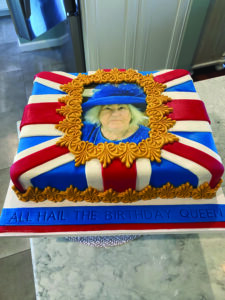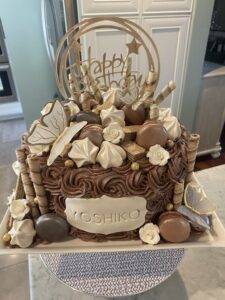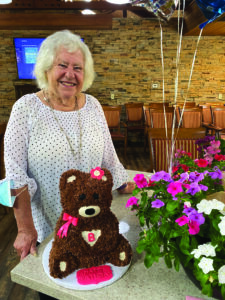 "His birthday cakes for our residents are truly designer cakes fit for a magazine," says Denise Gotto, Executive Director at Twelve Oaks. Julian learns what kind of cake the resident prefers and then he makes both serious and hilarious cakes based on their personalities. "For example, we have a resident who wears dresses and hats for special occasions," Denise says. When she would walk into the dining room, everyone would say, "Here comes the Queen." Julian took a picture of her looking like Queen Elizabeth in her hat and dress, then transferred the photo onto her cake along with a Crown and other British symbols made from fondant and icing. "The cake was funny yet beautiful and she was so thrilled when she saw her special cake," Denise says. Julian now makes cakes for residents' birthdays, each one reflecting something distinct about the person.
"We love Christmas at Twelve Oaks and so does Julian," Denise says. With a background in visual merchandising, Julian knew he could do something special, and his contributions grew from there — including playing Santa. "He decorates our Christmas trees and also decorates the exterior with lighting and extra décor. Residents and families and guests are blessed to enjoy the beauty of Christmas here at Twelve Oaks," Denise says. "Julian's big personality brings so much life to our residents! They adore him! And we adore him, too," Denise says.
Julian just loves to bring joy to people's day. "I always say, we see the snapshot and God sees the whole photo album."
About Twelve Oaks
Twelve Oaks, a member of the ECS family of nonprofit senior living communities, has been essential to the La Crescenta neighborhood of North Glendale, California for decades. The warm, welcoming atmosphere and comfortable private accommodations allow residents to maintain their active independence, enhanced with the confidence and peace of mind that come from knowing there is 24-hour trained and certified care available.