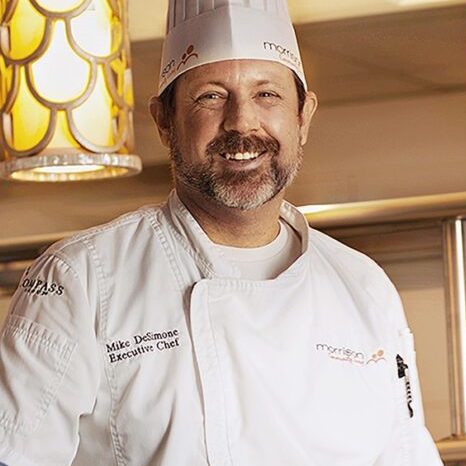 One of our greatest pleasures is good food. Have you ever wondered how our sense of taste functions? Join The Covington's Executive Chef Mike Desimone as he explores the various flavor profiles that we experience when we eat, how they are created and some of the ways he weaves them together in his delectable meals and menus.
In this webinar, Chef Mike will break out the tastes. Specifically, there are five basic components that our taste buds perceive: sweet, salty, sour, bitter and umami. This fifth component, umami is a Japanese word meaning "essence of deliciousness", and is often described as savory. Chef Mike will explore how these flavor profiles come to life in dishes and discuss their intriguing social and cultural aspects.
Different cultures have different ways of preparing foods that reflect our tastes. "Asian foods tend to be sweeter," Chef Mike says. He discusses how on the Pacific Rim, for example, grilling on an open flame creates caramelization, which in turn infuses a sweetness in the foods. Even the bakery breads of Japan are sweeter than elsewhere.
In the Mediterranean and Italian traditions, sauces steep for a long time, bringing out the tastes of umami and acidity or bitterness. Ocean-based cultures grew by pulling their catches from the sea and cooking them quickly, lending a more naturally salty flavor profile to their foods. Chef Mike says that depending on your background, you may have an expectation for one style of taste over another. Once you understand the heritage of various flavors, he invites you to try different ones, to discover new tastes. "For example, if you're used to sweeter foods, consider trying longer-cooking, braised foods," he says.
Chef Mike has been with ECS for four years. His love of food was nurtured at an early age. Both his parents were in the wine industry, so he spent a lot of time in restaurant kitchens, which instilled in him a passion for the culinary arts.
His own career started in the seafood restaurants of Dana Point Harbor before heading to San Francisco, where he worked with some of the preeminent restaurant groups. He returned to Southern California to open his first catering company, "What A Dish" and then "Island Style Tacos" in Capistrano Beach.
He loves the people and the spirit of our Southern California senior living community, and delights in bringing smiles to the faces of diners. "The menus here change every day," he says. "And the residents are up for trying something new." This openness means that Chef Mike can continually innovate his menus. "I'm proud of my team. It's a happy kitchen. We cook with love."
Join us on April 21, from 2:00 – 3:00 PM for this captivating exploration into the elements that make up the tastes we love.
Please note: these events are webinars, which means attendee cameras and microphones will be turned off. Chat will be available for submitting questions.