"Residents are not customers, they are family."
~ Rita Flores, Housekeeper, The Canterbury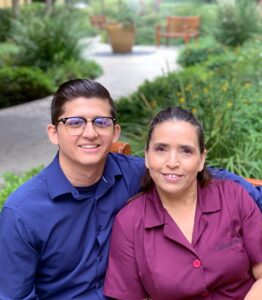 It has been said that ECS communities are some of the happiest places in Southern California. A big part of the reason is the family-like atmosphere that brings enjoyment, comfort, and peace of mind to residents and their families. One of the most important contributing factors to this positive, life enriching environment is the attitude and dedication of our Team Members. It is a key reason so many people looking for senior living in Los Angeles choose an ECS community.
For Rita Flores, a Housekeeper at The Canterbury, the family connections run even deeper because two of her sons also work at the community. "I am so proud of both of them," Rita says. "It makes working here very special."
Eldest son Joel Flores, Dining Room Supervisor, has been employed at The Canterbury for six and a half years. "I started part-time in the kitchen washing dishes," he says, "but soon I was given a full-time opportunity." Joel made the most of it and quickly earned his way up in the kitchen, learning many new skills along the way.
Eventually, Joel's positive personality and people skills lead him to the dining room floor, where he rose to his current role. "I really enjoy working with my coworkers and the residents are wonderful," he says. "Working here is an honor and I love my job." Joel is also happy that his younger brother Jair, who is still in high school, works part-time at The Canterbury. "It lets me keep an eye on him," he laughs.
The connection that develops between residents and Team Members is something Rita says makes her experience at ECS different from previous jobs, "Residents are not customers, they are family." Joel echoes the sentiments of his mother, "She instilled in us a love and respect for family, especially for my grandmother," he says. "I think we have that same love and compassion for our residents."
Part of being a family is supporting each other in our efforts to grow as individuals. For residents, that opportunity comes through Creative Living, the ECS approach to health, wellness, and wellbeing. With a focus on activities, social connection, and continuous learning, it enables residents to enjoy all that life has to offer.
For Team Members, educational opportunities exist through the Employee Education Fund, and Joel is currently enrolled in a radiology program. "It is something I have always found fascinating," he says. "Honestly, when I first started washing dishes all those years ago, I never thought this would be possible."
The Merriam-Webster dictionary defines the word 'Community' as "a group of people having common interests." For Diana Ernandes, Director of Creative Living at The Canterbury, the family feel of the community is only possible because of people like Rita, Joel, and Jair. "It is family taking care of family," Diana says, "and our Team Members are a big part of the reason why residents feel so at home here."
About us
Founded on four commitments – choice, creativity, confidence, and connection – ECS provides relaxed, maintenance-free, resort-style living in beautiful, continuing care, retirement community settings in Southern California.
Celebrating 100 years of exceptional services for seniors. Proudly nonprofit. Contact us today to learn more.