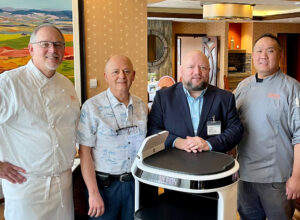 The culinary team at The Covington, one of the most sought-after active retirement communities in Orange County, provides exceptional dining options for residents. The team comes from a hospitality background — many have worked in restaurants, hotels and resorts in Southern California and beyond, and bring that training, commitment and love of service to their roles at The Covington.
The menus change to celebrate the seasons at both The Cove Bistro and The Grandview, The Covington's fine dining restaurant, especially with the recent arrival of the new Executive Chef, Charles (Chad) Krahling. "The benefit of being in California is that we have access to the best produce in the country," Chef Chad says, which he incorporates into the daily and weekly specials.
Relationships with local producers are the inspiration for his menu and new dishes. "We get great seafood from Santa Monica Seafood," he says. He uses that seafood in one of the most popular new dishes he has brought to The Covington, his celebrated smoked mussel chowder, which has been a huge hit with the residents.
Chef Andrew Wong is the Executive Sous Chef at The Covington and has been a key member of the team for six years. During his culinary studies at Cal Poly Pomona, he also studied wine, and earned a scholarship to Italy. He learned how Italy's perspective on wine is different than in France. "In Italy, it's about freshness and not manipulating the ingredients," he says.
He takes this perspective of freshness to his cooking. "With all the local ingredients we get to explore genres of food. Every week there are specials, from Thai food to Cuban food, or other international items, so residents get to try something new or different."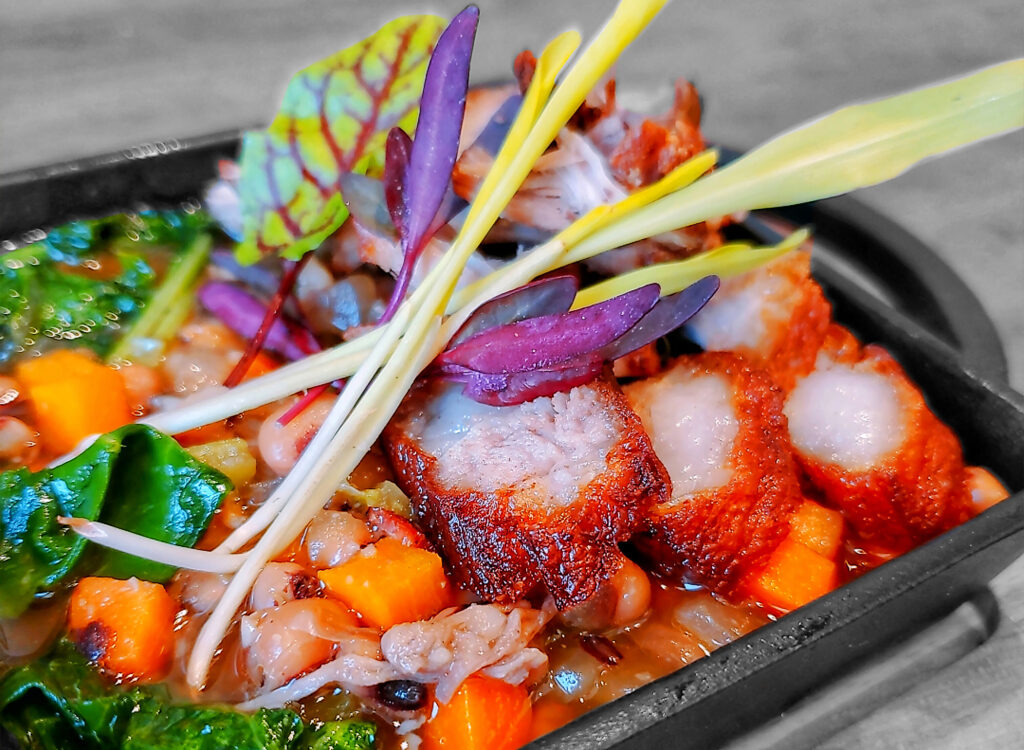 Gerardo Guerrero, Dining Room Manager, has been with The Covington for almost 20 years. "We always have special events," Gerardo says. Once or twice a month are piano nights when music accompanies the meal. It's always a popular evening. "We have a happy hour every month, usually with a theme," he says. Residents come together to enjoy an entertainer or an artist or karaoke while enjoying food inspired by that month's theme. On major holidays, there's always something extra special.
Javier Sarmiento, Senior Director, Dining Services says, "we're always open to trying something new." He describes the newest 'member' of the team, a robot, which joined them in July. The robot is programmed to carry an order to a table, where a Human Team Member presents residents with their meal. The robot also helps with transporting items back to the kitchen when tables are cleared. If a resident is having a birthday, the robot delivers the birthday cake to the table. The robot can even sing Happy Birthday. "The robot sings a lot better than I do," Javier laughs.
The Covington offers exceptional senior living in Orange County, and Chef Chad says, "it reminds me of a hotel resort property. The grounds are absolutely beautiful." Chef Chad has been so taken by the quality of the community, the friendliness of the residents, the wealth of amenities and of course the quality of the food, that he's talking to his father about calling The Covington home. "I want my dad to move here. I love this place."