"My body, mind, and soul feel nourished here."
Tom Brunkow, MonteCedro resident
Mornings are special in sunny Southern California. Dawn breaks and with it comes a day full of possibility and a new opportunity for growth and self-discovery.
At an ECS senior living community, you can live beyond your daily needs to be as creative, active, and adventurous as you want. It is why so many people choose to make their home with us. Here, you have the choices you deserve, the freedoms you desire, and flexibility you can count on.
Life is what you make it, and our communities offer a myriad of ways to help you be your best. At ECS, there are no maybes, just choices.
How will you spend your day?
Your Morning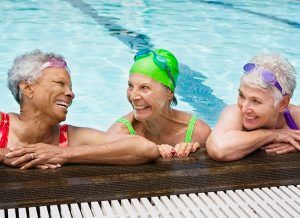 Does a swim before breakfast sound like the way to start your day? At MonteCedro, the heated, saltwater swimming pool is perfect for laps or improving your aquatic skills. If you prefer to ease into your morning, coffee with friends on the patio may be just the thing. Your day, your way.
For something even more stimulating, talk to MonteCedro resident Ralph Perry, 86. Maybe you can tag along on his thrice weekly five-mile roundtrip hike to the summit of Echo Mountain. The trailhead begins just a few minutes from our community and ascends 1700 feet to a stunning view. Ralph says the secret to staying healthy is to keep moving and he is certainly proof of that. After a walk with Ralph, you may appreciate the heated, saltwater swimming pool even more.
Your Afternoon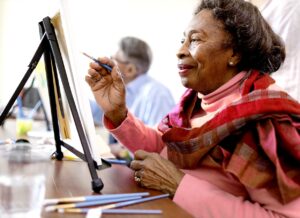 Our Life Plan communities offer relaxed, maintenance-free living and proactive wellness to ensure the next chapter of your life is as rich and vibrant as you are. At The Canterbury, residents have more options than time in the day. If you are artistically inclined, consider a painting or ceramics class in our Art Studio. If you have never been much of an artist before, take a class anyway! Trying something new is what life is all about.
Life-long learning is a cornerstone of overall health. It is a philosophy we call Creative Living that encourages residents to explore educational, cultural and social opportunities. Learn a new language, improve your golf game on our putting green, find a new passion, or reignite an old one – it is your life, live it on your terms.
An important part of feeling good is looking good. Our onsite Beauty Salon and Barbershop will help you maintain your edge and confidence.
If relaxation is your idea of a perfect afternoon, our luxurious, shaded outdoor lounge area is the ideal place to read a book from our library, chat with friends, or simply close your eyes and dream a little.
Your Evening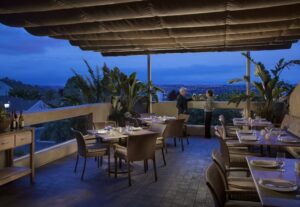 Mealtimes at ECS communities are always special. With multiple on-site dining options to choose from and a focus on fresh, local, farm-to-table cooking, food here is delicious and nutritious. Menus change on a daily basis, ensuring there is always something new to entice your palate.
At The Covington, there are plenty of ways to enjoy your time after dinner. Those with a green thumb can tend to their raised planting box in our community garden, while others may want to visit the woodworking shop to continue a project they are working on. The games room is also a popular spot in the evening.
There is also Schumacher Hall, our world-class concert and entertainment venue. Attend live performances from renowned musicians, presentations from noted travelers, adventurers, and scientists, and film screenings in a full theater environment.
At ECS, each day is yours to discover, surrounded by friends and neighbors who share your outlook on life, and with the peace of mind that comes from calling one of our Life Plan communities home.
About us
Founded on four commitments – choice, creativity, confidence, and connection – ECS provides relaxed, maintenance-free, resort-style living in beautiful, continuing care, retirement community settings in Southern California.
Celebrating 100 years of exceptional services for seniors. Proudly non-profit. Contact us today to learn more.